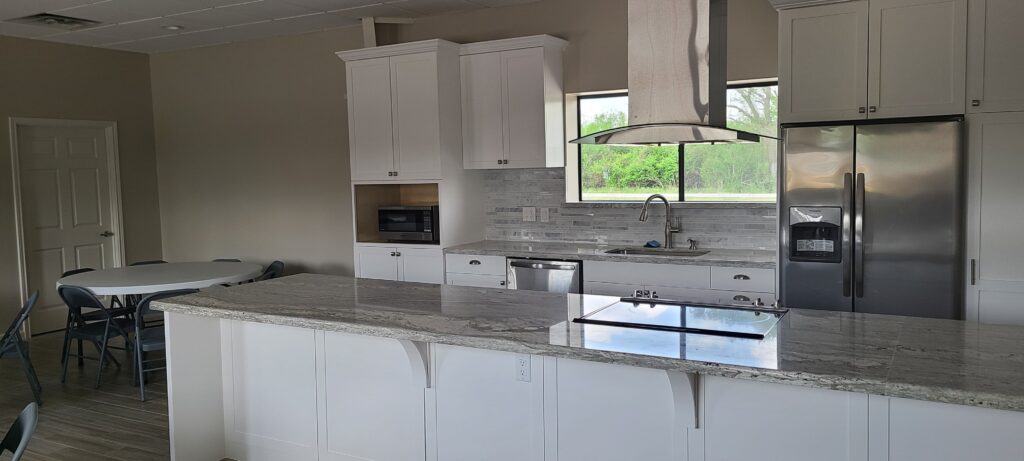 Club House Rental Information
---
Club House Rental Rates:
Rates are very affordable at only $250 for a four (4) hour block and an additional $75 per hour needed after.
The clubhouse has two rentable time slots: Either 12:00 PM noon to 4:00 PM or 1:00 PM to 5:00 PM. 5:00 PM is the absolute latest the clubhouse can be rented.
Waterpark tickets are $19 plus sales tax per guest and are charged separately from the clubhouse rental.
About our Club House:
State-of-the-art cooking and refrigeration appliances.
Granite countertops.
Over 1000 square feet.
Seats up to 40 people.
Total of 5 large, round tables with 8 chairs per table.
Big screen TV with high-speed Internet streaming available.
Private restroom.
Perfect for event types such as:
Birthday parties.
Family reunions.
Graduation parties.
Receptions.
BBQ or other special cooking needs.
Sports celebrations.
Super Bowl parties, etc.
The maximum number of people at any one RV site is limited to 10. Any group gathering with more than 10 people will be required to rent and host their event in the Club House.
Cleaning Deposit:
A $150 refundable cleaning deposit is required for all events held in the Club House. The facility is expected to be left clean and in the same condition as it was when rented. This includes all appliances, bathroom, tables, chairs, countertops, windows, and floors. The waste basket is expected to be clean and empty and can be emptied in the dumpster behind the Club House.