Summer Breeze USA Water Park – 2023
---
The water park is currently open Thursday through Monday of each week (closed Tuesdays and Wednesdays). Starting the week of August 21, the water park will only be open on Friday, Saturday, and Sunday until the end of the season, which is September 17, 2023.
The swimming pool and hot tub remain open year round from 10 AM – 9 PM.
Our amenities are for registered RV guests only and are not open to the general public. Please check this page for updates as the water park schedule is subject to change without notice.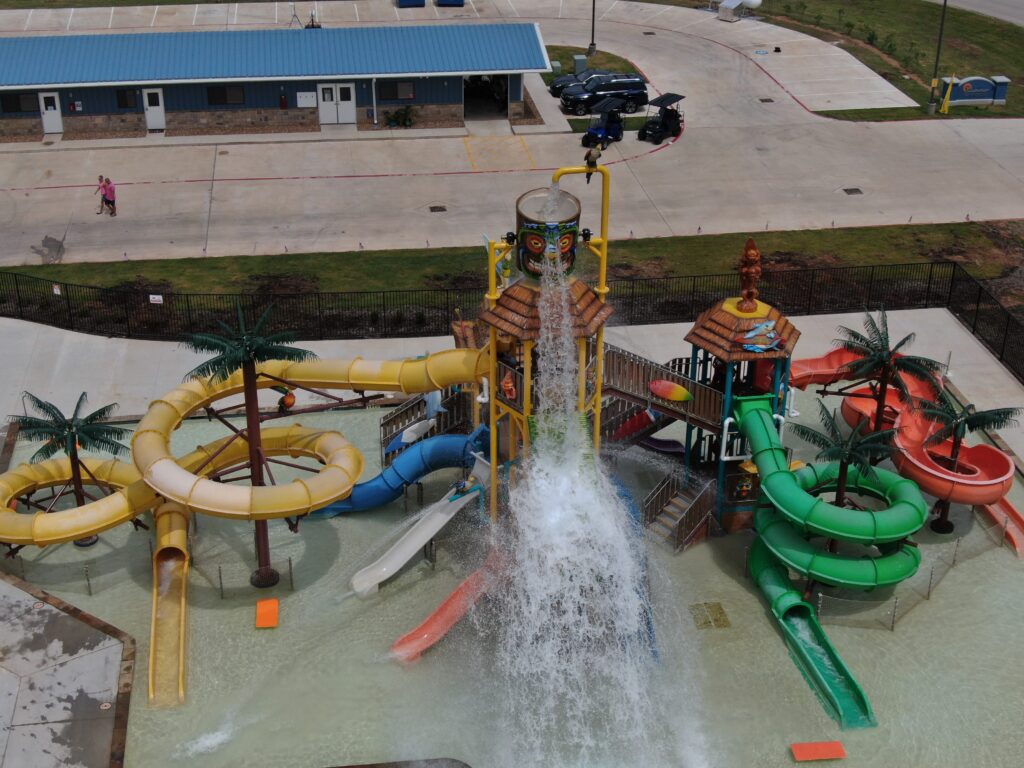 Waterpark and Pool Area Rules
For the safety and enjoyment of our guests, we ask that you please abide by the following rules:
• The pool and hot tub are open daily from 10 AM to 9 PM.
• The waterpark, when open, is open from 11:00 AM to 6:00 PM (May 25th – Sep 17th for the 2023 season). Times and dates are subject to change without notice. (Closed Tuesdays and Wednesdays for cleaning during 2023). Starting August 21, the water park will only be open on Friday, Saturday, and Sunday for the remainder of the 2023 season.
• A wristband is required for all guests for entry into the waterpark and pool area during our waterpark season (May 25th – Sep 17th for the 2023 season). Wristbands may be purchased at the front office.
• Absolutely no-one under the age of 18 is allowed into the swimming pool and waterpark area without a parent or legal guardian. We ask that parents make an extra effort to watch their children at all times while inside the gated and fenced swimming area.
• The waterpark and pool area are kept locked to prevent accidental entry by unaccompanied children. A key card is required for access.
• No group parties, birthday cakes, piñatas, or similar activities are allowed in the pool area, including under the palapa structure. Groups of 10 or less are allowed to have these activities on their individual RV sites or may choose to use our Club House. Groups of more than 10 are not allowed on individual RV sites and are encouraged to use our Club House.
• No cooking of any kind including propane, charcoal, or wood burning grills or other devices that have an open flame.
• Food, snacks, water, and soft drinks are allowed into the pool area. Please be sure all trash is properly disposed of. There are several trashcans located within the waterpark and swimming area.
• No glass containers of any kind including wine bottles, beer bottles, soft drinks, food jars, etc.
• Alcoholic beverages are permitted in cans only (NO GLASS CONTAINERS); however, drunken and disorderly conduct will not be tolerated and may be cause for permanent ejection from the park.
• No bicycles, roller blades, skateboards, scooters, hover boards, or other devices with wheels are allowed within the fenced pool and waterpark area. The only exception is to accommodate handicapped individuals who are in need of a wheelchair or other mobility assistance.
• No smoking of any kind – this includes tobacco products such as cigarettes, pipes, cigars, and non-tobacco vaping devices.
• No outside music except for wireless styled earbud type devices that other guests cannot hear.
• No swearing or profanity of any kind. Please remember that this is a family park.
• No pets of any kind (dogs, cats, birds, mice, lizards, turtles, fish, etc.) are allowed into the pool area.
• No climbing on the rock wall by the pool, or on the outside or top of any waterpark slides.
• Please do not put any of the Summer Breeze loungers, chairs, or tables in the water. The chlorine in the water is corrosive and will damage our equipment.
Summer Breeze USA RV Resorts takes great pride in operating an orderly, family-friendly resort, and we want our guests to feel safe and secure while visiting us. We ask that you please respect the swimming and waterpark area rules for both your safety and your enjoyment. Thank you for your cooperation!