Are you reading this from the frozen North while wearing two sweaters and your fuzzy socks? Here's good news! Even though the Groundhog says there will be another six weeks of frigid temperatures, you don't have to stay put. C'mon to Texas and book your stay at Summer Breeze RV Resort-Kemah to enjoy sunshine, swimming, great fishing in the Gulf, and excitement on the Boardwalk. There will be no snow in Kemah.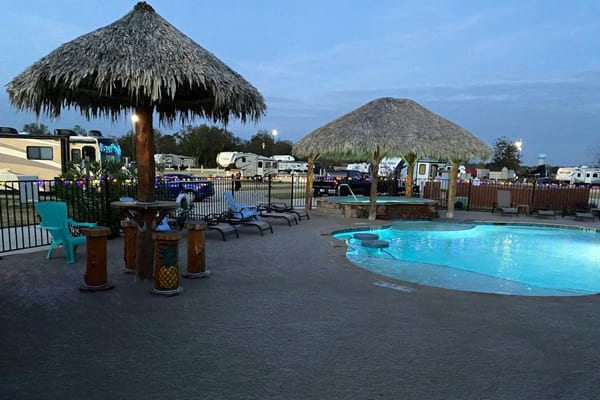 Has There Ever Been Snow in Kemah?
Snow is rare on the Gulf Coast of Texas. Nearby Galveston had its snowiest storm ever in February of 1895, when more than 15 inches of snow fell on the island. Then, 126 years later, in February of 2021, snow and ice once again fell on Kemah. Residents and visitors were both surprised and thrilled at the rare phenomena, and local newspapers ran headlines which were nearly as big as they would have been for major national or world events.
No Snow in Kemah
That's not going to happen this winter. The Groundhog's predictions don't really apply to the Texas Gulf Coast where the latest AccuWeather forecast is calling for an average of 70˚ through the end of February. So, Snowbirds, leave your mittens behind and c'mon to Summer Breeze RV Resort-Kemah where you will enjoy…
Tropical breezes and 70˚ weather
Resort-style pool and oversized hot tub
Hi-speed Free WiFi
Bark Park for your furry friend
Palapa-shaded picnic tables
Clubhouse with Rec Room
General store with ice cream and all the stuff you forgot to pack
And, of course, immaculately clean restrooms, showers, and laundry
You Don't have to Go Back Home
Here's more great news! For a limited time, Summer Breeze RV Resort-Kemah is offering one heckuva deal to Snowbirds, senior citizens, and Winter Texans on all the comforts and conveniences of a no-snow, frost-free fishing, sunbathing, and swimming experience in Kemah. Bring the family, bring the pets. Bring your RV and camp near the shores of the sunny Gulf of Mexico while you wait for Winter to go away.
Kiss Snow and the Groundhog Goodbye