Arguably, streaming movies is the best indoors RV activity there is. And only one thing can make it better: RVing being part of the plot.
Throw in our free Wi-Fi into the mix, and there you have it – the ideal pastime for when you're not enjoying all of the great outdoor amenities and attractions to be found when you stay at Summer Breeze Kemah.
As for the best RV flicks, we can't recommend the following movies enough to get your trip going. Here they are.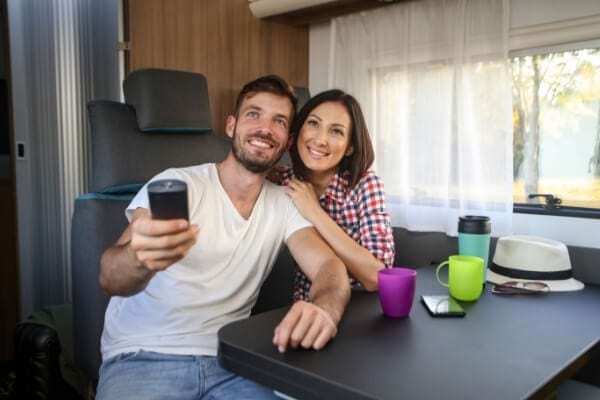 Top RV Flicks You'll Want to Put On Your List
RV (2006)
Enough said! In this family comedy, Bob Munro (Robin Williams) and his quirky family rent a customized tacky RV for a trip from LA to the Colorado Rockies. They meet other campers on their way, who seem to be even more unconventional.
RV in the movie: Forest River Georgetown
We're The Millers (2013)
This is a hilarious comedy in which, in an attempt to safely smuggle copious amounts of marijuana from Mexico to the US, David Clark (Jason Sudeikis) asks his three neighbors to join him and pretend to be his family. However, things don't go as expected.
RV in the movie: Coachmen Encounters
The Long, Long Trailer (1953)
For the oldies fans (and especially Lucille Ball admirers), you have to watch this romantic comedy. The newlyweds Tacy Bolton-Collini (Lucille Ball) and Nicky Collini (Desi Arnaz) buy a trailer to spend a year Traveling through the US on their honeymoon. They learn that having a home on wheels can be a tad complicated.
RV in the movie: Redman New Moon
Lost in America (1985)
For the adventurous souls out there, this one will hit close to home. Tired of their boring jobs and mediocre lives, Linda Howard (Julie Hagerty) and David Howard (Albert Brooks) decide to explore America in an RV.
RV in the movie: Winnebago
And While You're at It…Why Not Make Some Popcorn?
Not just any popcorn. This recipe by Taste Of Home mixes microwaved popcorn, Chex, cheddar seasoning, and tasty candy. Here's the recipe:
3 cups Corn Chex
3 cups Rice Chex
5 tablespoons butter, cubed
3 tablespoons white cheddar popcorn seasoning
1 package of butter-flavored microwave popcorn, popped
2 cups caramel-filled chocolate candies
1 cup red licorice bites
Free Wi-Fi to Stream Your Favorite Movies All Day? Kemah Has It!
Watch all of these movies and more without paying a dime, and don't worry about them buffering or lagging. The Summer Breeze RV Resort in Kemah, TX has got you covered with high-speed fiber optic Wi-Fi.
Check out all amenities or book your stay.