Just about midway between the big city bustle of Houston and the laid-back beach life of Galveston is Summer Breeze Kemah – an RV Resort that is the ideal place for a long-term stay.
Before choosing our park, or any park for that matter, you should ask yourself some basic questions about your desired lifestyle and how well prospective RV parks match up.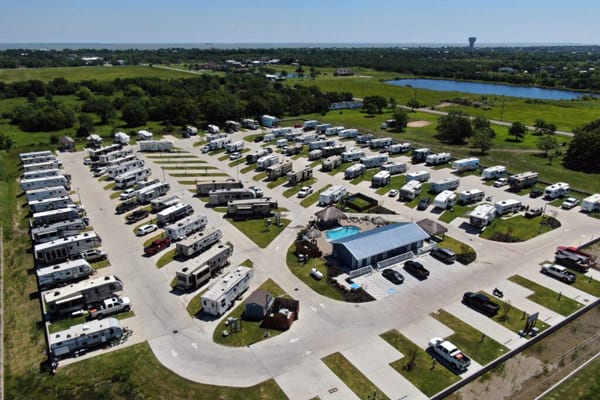 Things To Think About
Location – Do you want to stay near your current home? Got family in a distant town? Maybe you've always wanted to live near the beach or in the countryside or near a big city. But not TOO near, doggone it. Choose your general location first and the other items will fall into place.
Attractions – Do you like nature or going to exciting places? Houston Zoo, Kemah Boardwalk and Galveston Island are just a few within an easy drive from the park.
Amenities – Can't live without swimming or the internet? Select a park with a pool, a hot tub and WiFi.
Pets – Are pets accepted? Do they have a dog park? Yes!
Kids – look for an 'All Ages Accepted' park. Yes!
Schools, shopping, and healthcare – If those are high on your list of 'must-haves', look for a park that's near a big city. Like Houston or Galveston, for instance.
Peace and quiet – Opt for a place in the countryside. Kemah is quiet.
Rates – There are many things to consider besides the monthly rate, although that is certainly important.
Are the utilities included?
If you don't have an automobile and must drive the RV everywhere for groceries, healthcare and entertainment, you must factor in the distance from the park to those places and the cost of fuel.
What about laundry? If you do not have a washing machine in your rig, does the park have a laundromat and how much is it?
We think Summer Breeze Kemah fulfills all of your 'wants' in an RV Resort, but don't just take our word for it. Here's what Charles T has to say on Google reviews…
"Very nice park. My 43 foot fifth wheel took up the whole pad pull thru and they let me park my truck on another pad. My Harley fit underneath my tongue. Staff will work with you. Great staff. They have been more than reasonable and helpful to me. I'm a Wounded Warrior disabled Retired Veteran. This is a very Military friendly park. Brand new Resort with new washers and dryers, Very nice sauna with a tiki hut roof over head, nice pool and the managers bend over backwards to make your stay comfortable. The owner's son works part time here and he is always willing to help. Awesome park."
Click on Amenities, Attractions and Rates to get the scoop. You might even qualify for a discount! Then reserve your long-term stay and make Summer Breeze Kemah your new home.