If you had a swimming pool, a couple of fishing lakes, the biggest hot tub in Texas, a basketball court, plenty of ice cream and everybody loved your doggies, you would never want to leave home.
Guess what? We have all that and much, much more. When you book your stay at Summer Breeze of Conroe, you might just say, "What the heck…we're staying here forever!"
Take a look at this flyover of the park. Every single one of those RVs and mobile homes is full of people who are living their best lives. You could join those folks and enjoy big fun with all this…
Sparkling clear water in our big swimming pool
Great big fishing lakes
Biggest hot tub in Texas
Basketball court
Never go hungry! Snacks & drinks for sale
Bird watching
Playground equipment
Free WiFi
Gated bark park for your doggies
ICE CREAM – lots of flavors of delicious Blue Bell Ice Cream at our General Store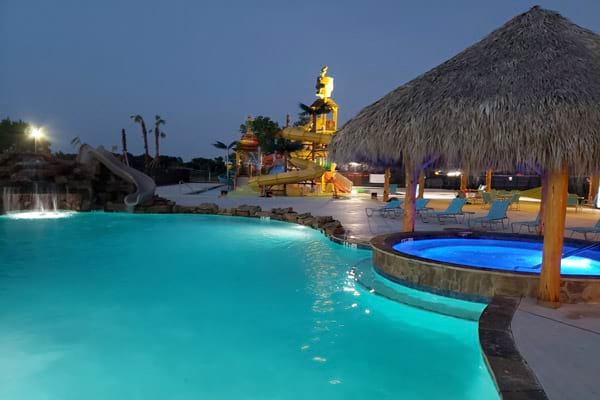 Oh, what about the regular stuff? What about doing the laundry? What if I forgot to pack something? No worries! Our smooth paved streets will take you right to the general store with all sorts of RV supplies and the laundromat.
Don't just take our word for it…." I'm just very impressed with the nice lots with concrete pads or strips to park on. Each site has a fire pit and charcoal grill," says Susan O on Yelp.
Take advantage of our special summer RV rates, now through September 30th. You might be eligible for a discount too! And, hey…if you want to stay forever, that's OK with us. We would love to have you. Reserve now for one of the best RV parks in Conroe Texas.