Welcome to the Summer Breeze RV Resort of Kemah, Texas! We hope you will enjoy your stay here and make our local wildlife part of your visit. Kemah is home to much marine and bird life; where you can enjoy touch and feel exhibits, educational programs, riding tours, nature and bird walks, bird sanctuaries and hundreds of fish species.
The Houston Audubon

The Houston Audubon for Birders is a resource for birding enthusiasts. Its mission is to advance conservation of birds, wildlife and natural resources; and create more bird-friendly environments. Information on nature walks, field trips and conservation concerns are available, along with many local programs. There are 8 local bird sanctuaries, along with Natives Nursery (home to 100,00 donated plants), lists of bird-friendly communities, digital birding resources and Bird Surveys. 'Lights Out for Birds' is an initiative to turn off lights statewide 11:00am – 6:00pm in spring and fall migration, as migrating birds are said to be frightened of bright lights. Other information includes the Bird Gallery Index, Bird-Watch parties, Bird-cams and the Christmas Bird Count.
Several noted attractions are The Aquarium Restaurant/Stingray Reef, High Island, and Armand Bayou Nature Center.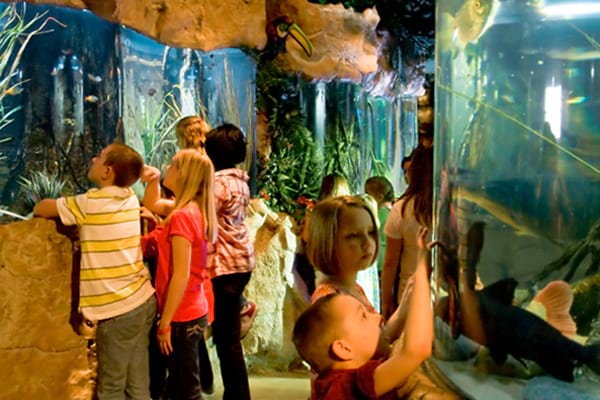 The Aquarium Restaurant, known as "an underwater dining adventure", offers a unique dining experience where patrons sit around a 50,000-gallon tank; watching 100 species of colorful sharks, stingrays and fish from the South Pacific, Caribbean, Indian Ocean and Hawaii as they dine. They also get to see a live diver feed the fish twice a day-and for $250, you can have the diver show a sign that you personalize; and you get to keep it when you leave. The menu has a variety of fish, steaks and seafood, along with special kids' and Happy Hour menus. The nearby Treasure Chest Retail is open Wednesday – Sunday and offers a special military discount. The restaurant also participates in the Crayon Initiative-where crayons used during meals are donated to local children's hospitals.
The Stingray Reef, located on the Aquarium's first floor, offers a touch and feel Stingray exhibit and Rainforest exhibit. Guests can feed and touch live stingrays in the 'touch tanks', and also view them in large glass tanks. Tickets are $5.25; for $6.99 you get a 'value pass', which covers reef entry and a supply of fish food. The Rainforest Exhibit is home to many species which include piranhas, snakes, scorpions, tarantulas and turtles (enter if you dare!). There is also an animal meet and greet, educational programs and the chance to be a Marine Biologist for a Day.
The Armand Bayou Nature Center is located on a major Texas migratory path; and provides ample opportunities for catching birds in flight, moving along the waters, and listening to songbirds. There are guided and individual photo hikes, which allow guests free reign, the only limitations being 'no touching' of wildlife and staying on marked paths. Armand's website has a page where you can upload your bird photos, making them a permanent part of the scenic website.
High Island is one of the most-noted bird sanctuaries. It is located near the Gulf of Mexico, where migrant birds 'pour' across the Gulf. It's a salt dome and mineral spring, where bird sightings are highest during 'fallout'; which happens in cold fronts. 4 smaller bird sanctuaries, owned by the Houston Audubon Society, are located on High island. They are Boy Scout Woods, Smith Oaks, Eubanks Woods, and SE Gast Red Bay. Boy Scout Woods and Smith Oaks are the 2 best known; with Boy Scout having bleachers where you can watch the birds, and Smith having 2 overlooks and 2 large rookeries. Topical Birding Tours are offered; and there are many birdwatching trails, as High Island, near Beaumont, is home to over 350 bird species.
BOOK YOUR STAY with us in Kemah and also enjoy our friends in nature!