His wife says, "He's crazy!" You'll say, "Wow!" When John Hovas first laid eyes on a 1968 Dodge Super Bee, little did he know that this encounter with the greatest 'muscle car' ever made would shape his destiny. The bold colors, the big stripes, and the vigorous, youthful designs of Plymouth and Dodge automobiles of the late 60s and early 70s inspired his quest to build the Texas-sized mancave, the Hemi Hideout – a museum and event space complete with his collection of 24 meticulously restored Mopar cars, hundreds of pulsating neon signs, antique tractors, motorcycles, and even a 50s-style diner.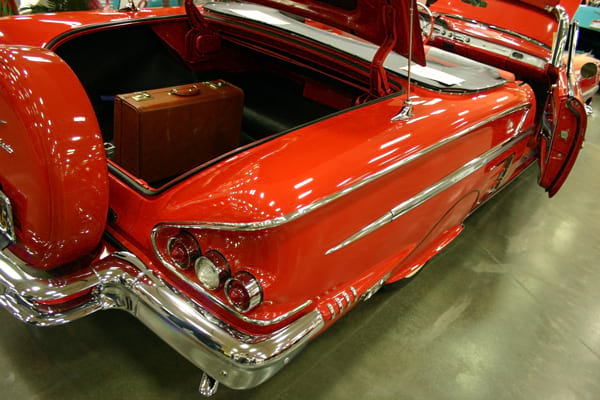 See the Hemi Hideout for Yourself
The Hemi Hideout, named for the hemispherical shape of powerful engines, sits on 110 acres of lushly landscaped grounds. The barn-like museum was inspired by a picture of an old Colorado barn and is the largest timber structure in Texas. The rugged beams of the vast museum support more than 1200 enamel and porcelain signs from oil companies, gas stations, car dealerships and others, dating back to the early 20th century. At least 280 neon signs, weighing several hundred pounds each light up the incredible architecture with their winking, blinking colors. The cars will blow your mind!
Treat Yourself to an Automotive Day Dream
The Hemi Hideout is less than a mile away from Summer Breeze-Katy. You can get there in 3 minutes! You must make a reservation to visit the Hemi Hideout. It is only open by appointment as it sometimes is hosting private events. Call (281) 347-4364 to reserve. The museum is open Tuesday – Friday and tickets are $10. Sorry, no children under 12. Hop in the car and go to the Hemi Hideout at 1172 Wilpitz Road – heck, you could even walk there. It's Disney Land for grown-ups and it's right up the street!
Automotive Dreams Come True When You Reserve Your Stay at Summer Breeze RV Resort-Katy