There's more to Texas than cowboys and oil wells. Discover the rich history and variety of sea coast experiences in Texas City when you take a little side trip. Texas City is only 14 miles away from Summer Breeze-Kemah via FM 517 and TX 146.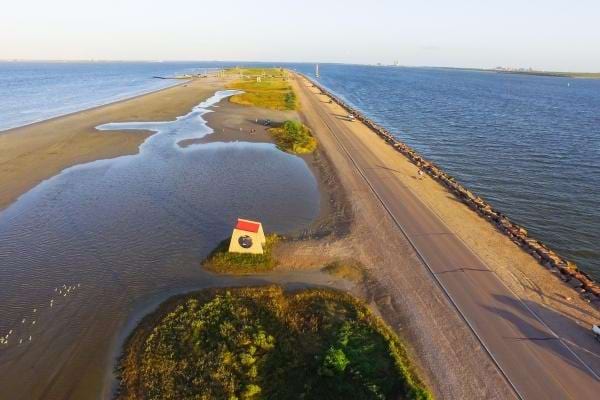 Texas City Dike
Load the family and the fishing gear into the car and c'mon to the Texas City Dike, the longest man-made fishing pier in the world, stretching 5.3 miles into Galveston Bay. The Dike is one of the most popular boat launch and fishing areas on the entire Texas gulf coast due to its location, ease of access and great amenities like Dike Beach, restrooms, fish cleaning stations, and picnic shelters. The base of the dike has a huge playground, hike and bike trails, bike rentals, and an 18-hole disc golf course. Free during winter months, $10 per car in the summer.
Galveston-Port Bolivar Ferry
Once you arrive in Texas City, you're only a moment away from the Galveston-Port Bolivar Ferry. Drive your car onto the ferry or be a pedestrian. See dolphins, shipwrecks, and Galveston Island. Take crackers or bread to feed the seagulls from the deck of the vessel as you cross Galveston Bay. The ferry is free family fun.
Visit the Texas City Museum
In 1947 the cargo of French-registered vessel SS Grandcamp – docked in the port of Texas City – exploded killing at least 581 people and flattening nearby oil refineries and hundreds of buildings. The entire city burned for days. It was the worst industrial accident in US history. See the eye-popping photos of this dreadful event when you visit the Texas City Museum at 409 6th Street N in Texas City.
In addition to memorabilia of the 1947 Texas City Disaster, you'll see a Dahlgren gun – a Civil War cannon from the USS Westfield, Children's Discovery Room, First Aero Squadron, and the incredible collection of trains from the Galveston County Model Railroad Club. Come quench your thirst for discovery at the Texas City Museum.
Adventures Galore in Nearby Texas City When You Book Your Stay at Summer Breeze RV Resort-Kemah