A common sight around the beautiful Summer Breeze RV Resort in Kemah is that of Palapas, placed strategically around the resort. These are umbrella-shaped structures located all over the resort for some Tiki jungle vibes right in a Texas RV Resort!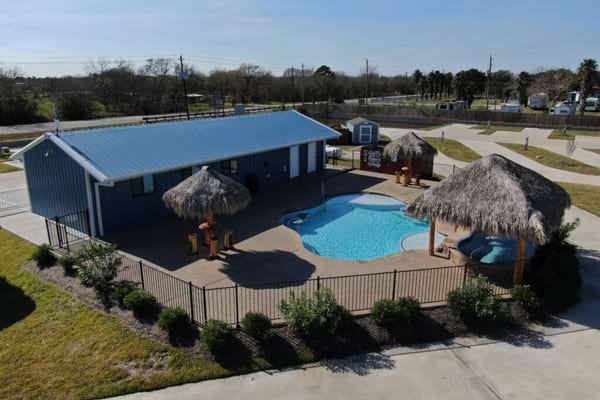 Palapas
These are just as unique as they sound. Palapas are thatched-roof structures that are open on all sides. The round versions often have a center support. The rectangular ones, on the other hand, have four bars supporting them on each corner. As for the roof, it's made of dried, woven palm leaves. Little wonder people sometimes refer to them as Grass huts or Tiki huts. Learn More >
A Brief History of Palapas
Palapas are popular in tropical island regions, but Mexico takes the crown here. Palapas are an important architectural contribution from many Indigenous cultures in Mexico. These structures accurately represent the rich history of Mexico. It's a sign of the ingenious use of natural resources by local peoples for millennia to come up with a charming yet practical structure. Learn More >
The New Face of Palapas
Unlike the early Palapas with very simple designs – fully thatched roofs supported by a strong stick – the modern palapas have a bit of a stronger support system. The roofs often have some extra paneling for support as well as concrete floors. However, its simplicity remains untouched.
Palapas often look like they just sprouted from the sandy beach on a tropical island. They are sometimes regarded as thatched gazebos. This is a rather accurate depiction of palapas. However, unlike gazebos that are strong enough to protect you from the sun and rain, palapas are best suited as shelters from just the sun. Learn More >
Summer Breeze Resort Relaxation Tips
Here, palapas are a common sight. Their relaxed, tropical ambiance help contribute to the positive, classy, fun, and upbeat vibes at our resort.
The palapas with their simple yet sophisticated look fit in with the vibes of this resort perfectly. From providing shade from the hot sun to a place for lounging around while sharing a drink and a conversation, you've got endless possibilities for what to do in the numerous palapas around the resort.
It's an RV resort, and not quite in a tropical climate, but with the right attitude you could definitely feel very tropical.
So, grab a towel, maybe even one with palm trees on it, and go sit down under one of the palapas at the resort. With resort-style palapa gazebos and other amenities in this resort, you'd be hard-pressed not finding unique ways of enjoying your time there.
You could simply sit under the palapas for some shade from the usual hot sun. It's also a great place to relax in the evening while having a drink.
Or you could go to the pool or hot tub for a quick swim or soak. Then, come right back to your palapa and take in the beauty and serenity of the resort.
Ultimately, amazing resources abound here, in Summer Breeze Resort. Enjoy all of them. It'll be a trip worth remembering.
Have fun!