The weather is just perfect for our pool and giant outdoor hot tub. December weather in Katy, Texas is usually about 65ᵒ – 70ᵒ anyway, so pack your swimsuit and enjoy summer year-round at the 'beach' at Summer Breeze USA RV Resort – Katy.
Five Stars – People Love Us!
We've only been open for a few months and the praise is rolling in already. Thank you, folks, for these kind words…
"Brand New RV Resort, all the staff was friendly and helpful, the facilities are new and modern. The pool was outstanding and the kids loved the water park, plenty of seating and shade in the pool area. They really have done a great job there, definitely will be staying again." ~ Brandi D on Google Reviews
"I am loving this place. Spacious lots and friendly neighbors, absolutely amazing staff and to top it off, a great water park! The pool is beautiful and the hot tub is so relaxing! I would recommend this place to anyone looking to relax and enjoy a week or a weekend!" ~ Slade D on Google Reviews
"Our first RV experience was in this place and they were more than what we expected. Made our transition from a house to RV awesome. All the amenities and common areas are always super clean and very well cared-for, the Internet in this park is more than 5 stars the park was at full capacity and our kids had no problem logging into their virtual classes or streaming movies. Thank you Summer Breeze." ~ Natalia M on Google Reviews
"Just spent the day at this new RV Park! Beautiful surroundings! Beautiful pool, hot tub, water- park with many slides for the kids! Playground and basketball courts! This place has it all! Laundry room and rec room too! The management is awesome!"~ Nancy D on Google Reviews
"Very beautiful environment, wide venue, suitable for various sizes of RVs to come here for vacation and camping, and has a large water sports center, a paradise for children to play, and a comprehensive sports hall." ~ Jonathan C on Google Reviews
Lots to Love
We're easy to find – just about 30 miles west of Houston, right off I-10 in Brookshire, Texas. And when you get here, you'll enjoy all of this, plus really nice neighbors.
• All concrete roads and sites
• 33 acres of lush landscaping
• 214 RV sites! 50 to 72 ft. in length x 40 ft. wide
• Full hook up at every site
• 50/30 amp standard sites
• Club house & fitness center
• Covered picnic areas
• Year-round pool
• Giant outdoor hot tub
• Tropical Village themed water park
• Huge interactive playground
• Concrete basketball court
• Laundry facility
• Vending machines
• High Speed Fiber Optic Wi-Fi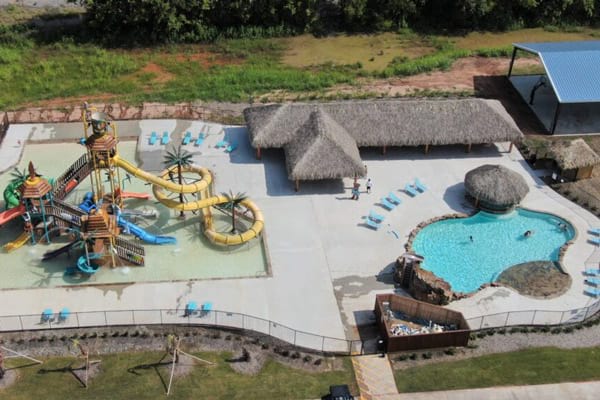 Bring your family and your doggies too! We're pet friendly. Come see us for a quick holiday get-away or reserve for warmer weather when the water-park re-opens.
Summer Breeze RV Resort in Katy – Where It's Summer Year-Round. Reserve Now!