What do pond fish like to do on a hot, lazy afternoon? Same as you – take a nap! That's why the best times to angle for fish in one of our ponds at Summer Breeze – Conroe is early morning or early evening, 'cause that's when they are wide awake and looking for something to eat.
Practice your pond fishing techniques at our catch & release ponds and then go catch your dinner at Lake Conroe.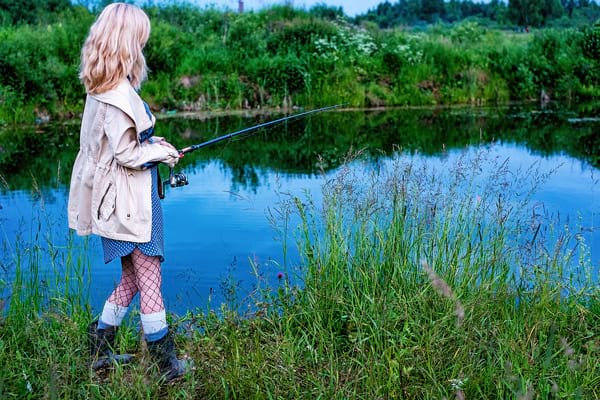 Pond fish – usually white bass, striped bass, channel cats, largemouth bass, and sunfish – like to hide in plants growing near the surface and hangout near structures like docks or submerged logs. Always fish near plants or structures that provide shelter, shade, and protection for fish.
The logs and docks create shallows, the plant growth attracts little bait fish, and your target – the game fish – come by to eat the little fish.
Small Pond Fishing Tips
You need to adjust your gear for pond fishing. Although tall rods work well for large bodies of water, when in the pond you should avoid using anything longer than six feet. Your best bet for success is using a fast action, medium-light rod with a spinning reel.
Here's what you need…
Medium-action rod that's not over 6' long with a spinning reel
10 pound line
Sunglasses
Try these lures…
Jigs/plastic trailers
Sinkworms
Shallow crankbaits
Weedless frogs
Rooster tails
Catfish bait
Texas rigged gulp worms
Spinnerbait
Now that you've perfected your technique, it's time to throw those fishies back into our pond and head out to nearby Lake Conroe to angle for your dinner. You can even grill your fish on our outdoor BBQ grill instead of heating up your RV kitchen…
Southwest–Style Grilled Catfish with Salsa
For salsa, in a large bowl, combine…
• 3 medium tomatoes, chopped
• ¼ cup chopped onion
• 2 jalapenos peppers, seeded & finely chopped
• 2 tbsp white vinegar
• 1 teaspoon salt
Cover and refrigerate for at least 30 minutes.
Rub the catfish fillets with your own blend of chili powder, cumin, coriander, cayenne, garlic powder, paprika, and salt. Moisten a paper towel with cooking oil and lightly coat the grill rack.
Grill fillets, uncovered, over medium heat or broil 4 inches from the heat for 5 minutes on each side or until fish flakes easily with a fork. Serve with salsa.
Don't forget frosty, delicious Blue Bell ice cream from our general store for dessert!
Reserve your fishing adventure at Summer Breeze RV Resort – Conroe. Do it today!