If you think the biggest reason to visit Kemah is the Boardwalk and the Gulf of Mexico, you are in for an exciting surprise.
Armand Bayou Nature Center is just 22 miles from Summer Breeze RV Resort – Kemah in Pasadena, Texas and features exploration opportunities you've never even heard of. It's big fun for everyone!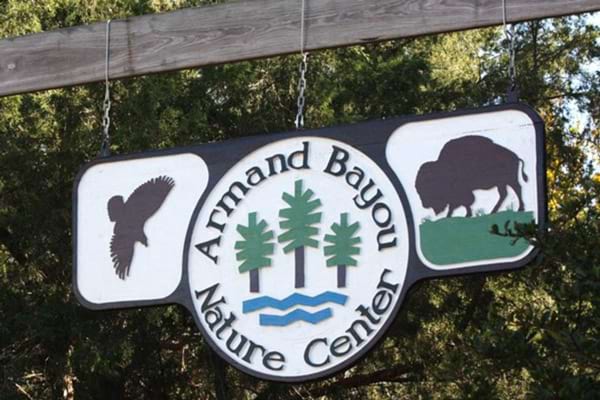 Owl Prowl
Night time hikes for groups of 4 – 7. Enjoy the sights and sounds of the prairie, forest, and bayou at night! Some nocturnal creatures you may see or hear are owls, bats, fireflies, raccoons, spiders, armadillos, deer, frogs, and more. Bring water, bug spray, a flashlight, and wear closed-toe shoes. Saturday evenings. Call (281) 474-2551 to reserve.
Guided Kayak Tours
Can you lift 30 pounds and paddle for 3 hours? Experienced and beginner kayakers are invited to explore the wetlands, relax, and have fun watching birds, reptiles, and deer at the water's edge.
Martyn Farm Live Demo
Imagine a world without cars and cellphones. See how people survived and thrived on a 19th century farm in Texas. Authentically-dressed re-enactors demonstrate carpentry, rope making, toys, and fabric making from the 1800s. Amazing! Saturdays & Sundays, 1:00pm – 4:00pm. No reservations necessary.
Hazardous Beasties Safety Training
Worried about dangerous critters in your backyard and beyond? Learn to identify and avoid poison ivy, venomous snakes, black widow spiders, and other potentially hazardous plants and animals in the Houston area. See some of Armand Bayou Nature Center's live reptiles up close, and discover how to safely work alongside nature. This class is intended for adults. Call (713) 274-2667 to reserve.
Active Senior Group Programs
Two different programs for folks 55+. Call (713) 274-2667 to reserve your date and time.
Hands-on History & Prairie Viewing features the Bison Platform, trip to the 1890s farmhouse & carpenter shop, tall grass prairie, live animals, and a hike along the forest boardwalk.
Pond & Reptile Demo with Forest Boardwalk Stroll showcases the birds at the bird blind, reptile demonstration, and Boardwalk Stroll into & out of the forest in search of wildlife.
EcoTots
For children 18 months – 4 years. Must be accompanied by an adult. Every Friday morning program is about something little kids enjoy, like flowers, ants, mud, and rocks. Register online or call (713) 274-2667.
It's a wild world out there in the Texas wilderness – wonderful wildlife every day of the week when you book your stay at Summer Breeze RV Resort – Kemah!