Plenty of people know Kemah as a great vacation destination, but did you know there is world class fishing throughout the Galveston Bay complex and just offshore from Galveston Island? This should be no surprise – there is water everywhere, and the ocean is just a short boat ride away. There are quite literally thousands of fishing guides around that offer everything from 4-hour bay fishing trips, to 24 hour deep sea fishing trips in Galveston.
Fishing in Galveston Bay is an angler's dream. Navigating these waters, however, can be tricky. With a professional guide at the helm, catching fish isn't an issue, the only question is what kind of fish, and how big!
Booking a vetted, quality fishing guide ensures you get the most bang for your buck. You can expect to catch big Redfish, Black Drum, Gulf Flounder, Speckled Trout, Sheepshead, or even take a shark fishing trip from Texas City.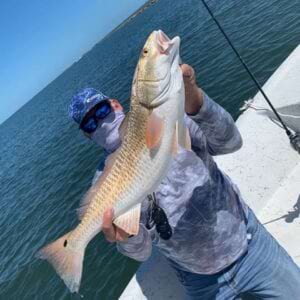 Booking a Trip
Finding the right guide for your group and comparing prices can be difficult, time consuming, and downright stressful. Captain Experiences has made it fast and easy to book a guided trip. Whether you're just looking to head out for a relaxing day on the water, or you're an experienced angler with years of experience under your belt, Captain Experiences has guides for you.
Captain Experiences is Texas-based, so naturally they have a lot of guides along the Gulf Coast. If you're looking to head south for the day, check out all of their Galveston fishing trips. For fishing trips a little closer to Kemah, they have some fishing guides in Texas City, San Leon, La Porte, and up north in Baytown.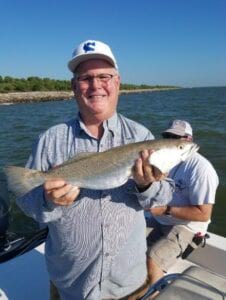 After the Trip
After your successful day on the water, there are plenty of places that will cook up your fresh catch. Top Water Grill in San Leon is one of the best around. Situated right on Galveston Bay, you can look over the very water you just caught your fish in while someone prepares it for you! It doesn't get more satisfying than that.