With everyone putting on their Spring Break hats and searching for the best places in Texas to have fun, relax, and unwind, the hunt for the best location begins. Well, the great news is that our team at the Summer Breeze RV Resort is reopening our very own waterpark for everyone thinking of spending Spring Break in Katy, TX!
While the waterpark has been closed over the winter, it will be open specifically for Spring Break from March 13 – March 21 for 12 hours a day to all of the resort guests staying at Summer Breeze in Katy.
All guests will have the luxury of enjoying the heated pool, hot tub, waterslides, playground, and cave area for the perfect family experience while making the most of an amazing RV vacation.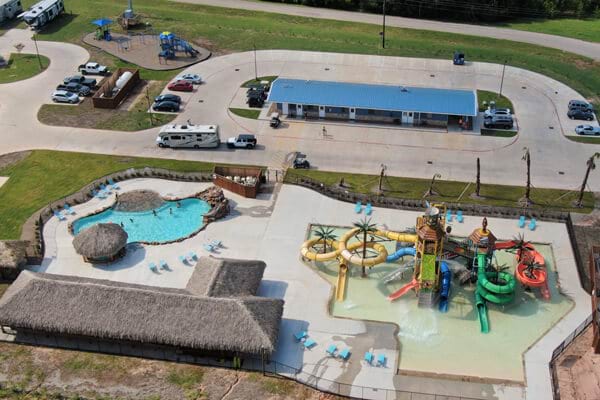 When guests stay at Summer Breeze RV Resort in Katy this Spring Break, they also get to enjoy:
Connecting to our highspeed fiberoptic Wi-Fi system.
The club house and fitness center.
Golf cart rentals.
3500+ square feet of palapa-covered shade areas.
Over 10,000 square feet of uncovered decking, perfect for soaking up some sun!
Every RV site has full hookups including 50/30-amp electrical service, and all of the roads and RV sites are concrete pads so you can pull in, set up, and relax in no time. 33 acres of green and lush landscaping provides the perfect scenery for putting your feet up, and when the kids have had their fill at the waterpark, they can explore the gigantic interactive playground or the basketball court.
In addition, each RV site has its own picnic table, so guests can enjoy eating in the fresh outdoors while enjoying the relaxing scenery. Also, all of our premium sites come with their own firepits!
If this all sounds like it is too good to be true, then you need to come on over to the Summer Breeze RV resort for this Spring Break in Katy, TX, and see it all for yourself. The perfect family experience awaits.