Your dog wants a beach vacation too! Summer Breeze RV Resort in Kemah where dogs are welcome is just the place to take your Pupper! Take him to our deluxe dog park so he can socialize with other critters. Then take yourself and your doggie on a little day trip to Galveston Island. -It's only 29 miles away on I-45!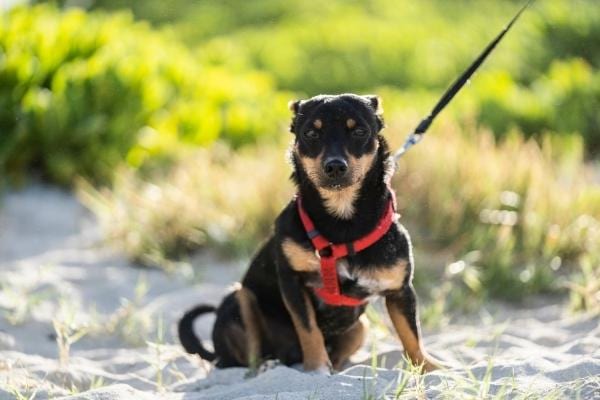 Dogs Are Welcome on Public Beaches
Good news for dog-people…leashed dogs are welcome on all public beaches in Galveston year-round.
East Beach
Head east on San Luis Pass Road. It turns into Seawall Boulevard. When you've gone as far as you can go, you will have arrived at East Beach on the furthest eastern tip of Galveston Island. East Beach offers FREE public parking right next to the paid parking. Leashed dogs are welcome and the beach goes on forever. Plenty of sea shells too! Unlike most other public beaches, East Beach (aka R.A. Apffel Park) allows visitors to bring alcohol!
Stewart Beach Park
Also on the eastern end of Galveston Island, but not quite as far. Stewart Beach was named one of the "10 Best Beaches for Families" by Family Vacation Critic in 2013. Located where historic Broadway Avenue meets the Seawall, Stewart Beach offers rental chairs & umbrellas, food concessions, volleyball court and plenty of other amenities, as well as regular supervision by highly trained lifeguards. Leashed dogs are welcome. Sorry, no booze!
Seawall Urban Park
The center of Galveston's dog-beach activity takes place along the island's famous Seawall Boulevard. The park stretches more than 10 miles offering plenty of beach as well as the nation's longest continuous sidewalk – great for running, biking, people watching, or dog-walking. Leashed dogs are welcome! Sorry, no booze, dirt bikes, or ATVs.
Pack the leash and the dog treats and reserve your stay where dogs are welcome at the dog-friendliest RV Park in Texas – Summer Breeze RV Resort in Kemah.
Special Winter Rates for Snowbirds and Winter Texans!